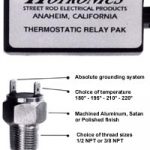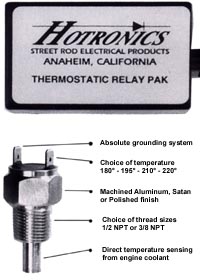 This is the switch kit the industry is buzzing about.
· Plain or Polished Aluminum sensors
· 180º-195º-210º-220º temp. settings
· 1/2 NPT or 3/8 NPT threads
· Dependable operation
· Direct temp sensing
· 40 amp relay pack
· Easy installation
The only real cooling fan switch designed for Street Rods and Performance Vehicles
Sensor or 75 amp relay may be purchased separately.
75 amp relay priced @ $42.00 (order AR-75)
Polished are priced @ $69.00 ea. (sensor only) (*except 220 degree)
The Satin are priced @ $58.00 ea. (sensor only)
*NOTE- (Not Available polished sensors in the 220 degree setting, this includes in kit form as well as sensors only.)
Then there is the complete kit including 40 amp relay pac
The Plain Satin finish priced @ $79.00 ea. your choice of temp.
Polished finish kit priced @ $89.00 ea. your choice of temp, except 220
Shipping & Handling
Kit $14.00 Ground.   Sensor only $8.00 up to 2 pieces
Kit $ 16.00 Priority    Sensor only $12.00 up to 2 pieces
Heavy Duty 75 amp relay $8.00 Ground or $12.00 Priority
Note: 75 amp relay and choice of sensor, ships @ kit price